Vladimir "Barmaley" Golubev may become the real buyer of the Nevsky Prospekt shopping and entertainment center, and he may also be involved in the collapse of the Energomechanical Plant.
Foreign business continues to leave Russia: on the eve of the Czech PPF Group, PPF Real Estate announced its intention to sell the Nevsky Prospekt shopping and entertainment center in the very center of the Northern capital. Now the Czechs are negotiating with a certain "large investor," which may be Aptekarsky LLC Yulia Serykh and Dmitry Bykov.
In fact, a larger fish may stand behind them – namely, the authoritative businessman Vladimir Golubev, who back in the 90s received the nickname "Barmaley." Details – in the material The Sankt-Petersburg Post.
Aptekarsky LLC is owned on a parity basis by an entrepreneur, general director of Dsi Invest LLC and organizer of educational projects for children Yulia Serykh, as well as businessman, former Smolny official Dmitry Bykov.
In Smolny, Bykov once served as deputy chairman of the Committee for Economic Development and Industrial Policy and Trade of St. Petersburg, and became such at the age of 26, which cannot but raise questions about possible patronage of the young man from the outside.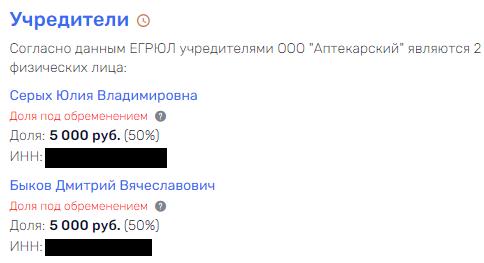 Photo: Rusprofile.ru
But much more interesting, whose interests they can represent today. Aptekarsky LLC is a fairly large investment structure for real estate management, revenue at the end of 2021 is 253 million rubles. But the company's money, apparently, is not dense, despite such figures, because all 100% of the shares are pledged by Maxim Vladimirovich Zhukov.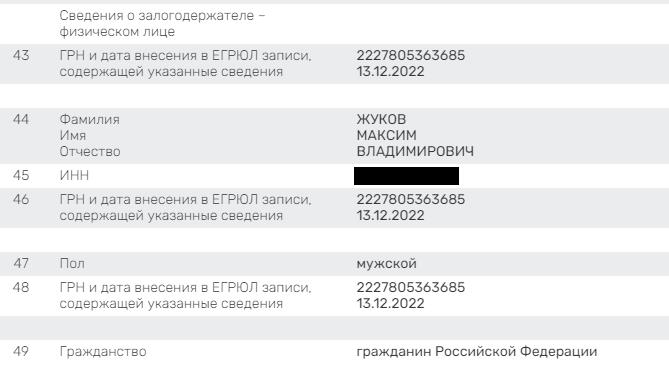 Photo: Rusprofile.ru
Maxim Zhukov in the media is called the son of a well-known entrepreneur in St. Petersburg, a native of the dashing 90s Vladimir Golubev, better known as Barmaley. It is believed that in those years he made acquaintance with the largest St. Petersburg crime bosses, and could earn his wealth, including not without their participation.
In addition, earlier Apetkarsky LLC belonged to the Victory Stratton Ltd offshore company from Belize, which Delovoy Petersburg also associates with the personality of Maxim Zhukov. From the shares of LLC offshore came out just recently, in December 2022. It turns out that earlier part of the taxes with the LLC could go to distant offshore shores.

Photo: Rusprofile.ru
In addition, Maxim Zhukov had other connections with the same Julia Serykh. Earlier, Zhukov was the general director of MNITSPU LLC, which today is 80% owned by Yulia Serykh. Another co-owner of the organization was previously Sergei Serykh, Julia's likely husband.
As for Vladimir Golubev, he is a co-owner of 25% in the St. Petersburg holding "Adamant," where his partners are Igor Leitis and a number of other persons. This is a multidisciplinary holding, but mainly engaged in real estate. Adamant is believed to own more than 25% of all Northern Capital retail property. Among other things, Adamant includes companies providing various services – medical clinics, restaurants, beauty salons, hotels, security services, skating rinks.
Thus, it can be easily assumed that it is "Adamant" Leitis and Golubev who will ultimately leave the large shopping center "Nevsky Prospekt," and Bykov and Serykh can only act as nominal owners or gaskets.
And this is not surprising – after all, Mr. Golubev and his partners have an ambiguous reputation, not everyone will want to sell him large pieces of real estate directly.
"Adamant" was founded in a distant and difficult year for the country in 1992. Then, together with the class of small owners, stalls and others, organized crime groups flourished in a stormy color. The founders' fathers – Igor Leitis and Mikhail Bazhenov began with the plumbing trade – bought Finnish toilets for cash.
Later, in an interview with Forbes, Leitis, answering the question of how they managed to survive in criminal St. Petersburg and develop into such a giant, replied: We have always agreed, and therefore we have completely third-party shareholders in some complexes.
Apparently, Golubev is just one of them. And what it means to "negotiate" in those years was interpreted unequivocally – most likely, it meant to borrow a "roof" so that there were no problems with the "brothers."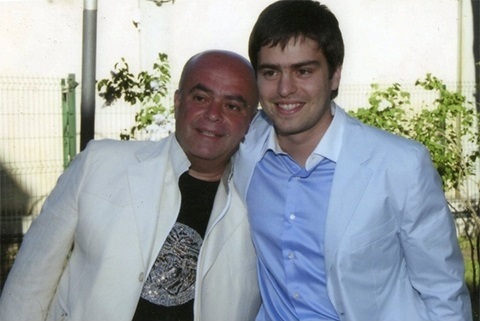 Vladimir Golubev and Maxim Zhukov. Photo: https://rus-republic.com/2022/11/01/medvedchyka-osvobodili-iz-plena-ego-ziatia-rumina-osvobodiat-iz-rossetei-2/
Golubev everywhere
Previously, all business affairs of Vladimir Golubev were concentrated in the North-West of the country. Now his interests go much further. Back in 2018, Igor Leitis, co-owner of the St. Petersburg holding Adamant, probably not without Golubev's approval, entered the commercial real estate market in the Moscow region.
Later, in 2019, in the Kursk region, the right to build a Kursk airport went to a little-known local office of Bravo LLC. A company with an authorized capital of only 10 thousand rubles was registered just a year before. Earlier, sources of The Moscow Post suggested that the St. Petersburg Adamant could be the real owner.
The governor of the Kursk region is Roman Starovoit. Previously, he led Rosavtodor, and he was replaced in this post by Andrei Kostyuk. Both are immigrants from St. Petersburg. According to the authors of the site kompromat.wiki, allegedly in the Starovoit region lobbied for Golubev's interests. Regarding Kostyuk, the authors of the site claim the same: allegedly, Kostyuk could lobby for Golubev's interests in the road business.
As Versiya writes, Golubev allegedly drew attention to Kostyuk back in 2005, when he decided to engage in road construction. Knowing how to be extremely charming at the right moments, "Barmaley" allegedly quickly charmed the young official, they met repeatedly.
But now Golubev is acting almost openly. Last December, he bought Moscow Network Company LLC, which had previously taken possession of the property of the bankrupt Bashkir Poultry Complex named after M. Gafuri LLC (BOD).
Earlier, the factory belonged to the Ufa businessman Damir Kamilov and Nelly Yusupova, the daughter of businessman and ex-State Duma deputy Marcel Yusupov. The poultry complex was going to bankruptcy, its area was rented by the structure of businessman Alexander Klyachin, known for his love of "unfriendly acquisitions."
According to rumors, the size of the rent was several times lower than the market, so they could help the factory go bankrupt. Considering that in the end it went to Golubev, and not Klyachin, the two businessmen could agree. Earlier, The Moscow Post suggested that another shopping center could appear in its place. Where is Golubev, and where are the chickens?
Derailed Plant
The St. Petersburg "Energomechanical Plant," which had state contracts for 66.5 billion rubles, could also help sink into oblivion. According to the authors of the site kanoner.com allegedly earlier the plant was owned by Petersburg Transit LLC (30%), Maxim Zhukov (19.98%), the general director of the company Dmitry Bykov (19.92%), Yulia Serykh (19.89%), as well as minority shareholder Nodari Adeishvili (4.28%)
Many scandals were associated with the plant, the main of which is its bankruptcy. It was finally liquidated only in 2021. Something strange was going on there. The plant stopped paying wages to workers: it was possible to return the money only in 2017, after some of the equipment was sold at the plant. Fontanka wrote about this.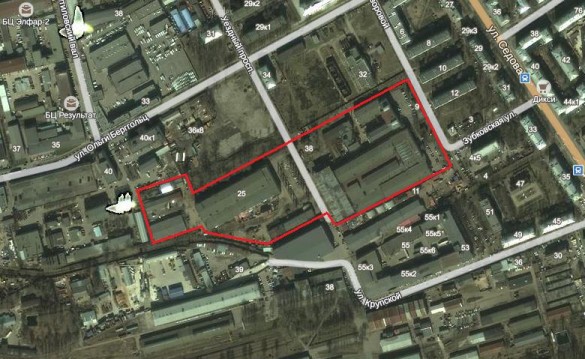 The "Energy Mechanical Plant" collapsed for a long time and stubbornly – too tasty a territory for the development of another shopping center. Photo: https://kanoner.com/pics/2014/12/yenerhomehanycheskyj-zavod.jpg
With such partners…
Now the then partners of Golubev's son Maxim Zhukov have set their sights on the Nevsky Prospekt shopping and entertainment center. At the same time, questions may arise for the companies of both Yulia Serykh and Dmitry Bykov. The first is the founder of as many as 12 organizations, most of which are now liquidated. And she was also a manager in nine offices, most of which also do not work.
She remains the general director of Dsi Invest LLC, in which you can find signs of fictitious behavior. One employee for 10 thousand authorized capital. Since 2012, the company had revenue only once, in 2017 – 7 thousand rubles. At the end of 2021, she has a loss of almost 10 million rubles, and almost the same negative value of assets.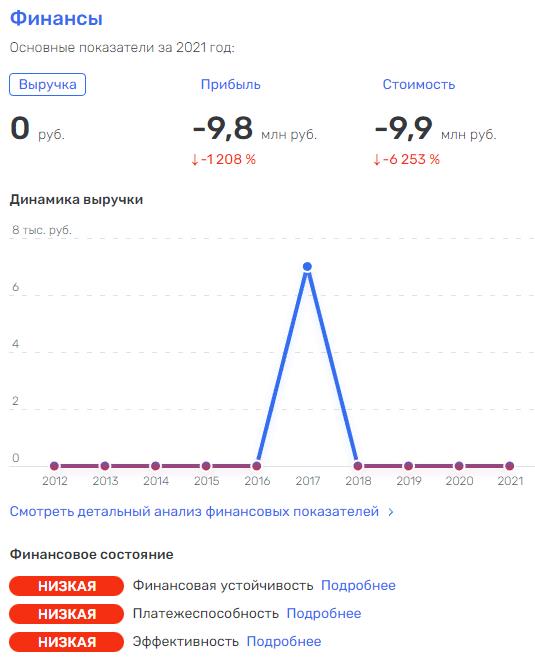 What Yulia Serykh leads at Dsi Invest LLC is decisively not clear. Photo: Rusprofile.ru
But Ms. Serykh is actively promoting her educational projects for children. It seems that she is not very inclined to do business at all, and may only be the face of more influential entrepreneurs – Vladimir Golubev and Maxim Zhukov.
In Smolny, Dmitry Bykov oversaw small and medium-sized businesses. He is the founder of 17 companies, of which only three operate, counting Aptekarsky LLC.
Glass Project LLC employs only two employees. Zero revenue, losses and negative asset value at the end of 2021. But the authorized capital is under 6 million rubles. Why do you need such a structure? In another "live" company LLC "Kavedium" there is not a single employee at all. Neither revenue, nor profit, and assets for only 9 thousand rubles.
How such entrepreneurs can conduct business in relation to a large shopping center in the center of the Northern capital is a rhetorical question. But there is hope that "older comrades" will thoroughly help them.